Ball Body Shop Middleton WI - A Division of Smart Motors
Voted as one of the 2016 Best of Madison by the readers of Madison Magazine. We specialize in restoring every make and model back to pre-accident condition, and are proud to say we work with every local and national insurance company.
Why choose Ball Body Shop in Middleton?

No Appointment Needed
FREE- estimates while you wait.
FREE- loaner vehicle while your vehicle is being repaired.
LIFETIME- guarantee on the repair work we perform.
HASSLE FREE- claim service; we work directly with your insurance company to ensure your claim is processed quickly and accurately.

We have partnered with every local and national automobile insurance company. When you're in an accident, it's not just frightening, it's a big inconvenience. When the unfortunate happens, Ball Body Shop – a division of Smart Motors Toyota can arrange towing and a rental car while our expert technicians make your car like new again. Our factory-trained, I-CAR Certified Technicians can take your vehicle from wrecked to repaired. We handle accident damage of all types including;
Crunched bumpers
Dented Door
Major minor fender-benders
Paint work or cosmetic touch-up
Uni-body, full and truck frame repair or replacement
Guaranteed work, from a collision center you can trust.
The Art of Remanufacturing Cars
Wisconsin's Largest Body Shop makes damaged cars new again.
When Smart Motors purchased Ball Body Shop in 2010, it had purchased a 20,000 square foot body shop that was known for its service. But a recent remodel saw the shop increase in size by approximately 30 percent to 28,000 square feet—ensuring Ball Body Shop will be known for both size and quality of work.
With this expansion, Ball Body Shop, 2225 Eagle Dr., Middleton, a division of Smart Motors, has become the largest full retail body shop in the state. But the company didn't just increase the number of service bays or apply a fresh coat of paint, it also added high tech equipment to turn it into a state-of-the-art facility. From an alignment rack that can lift any vehicle, to a full service glass company NOVUS Glass Madison , Ball Auto Body Repair re-manufactures vehicles back to pre-accident condition.
There's even a special 220 volt squeeze resistant spot welder that knows the make and model of every car. Our $20,000+ computerized welder knows the contour of every vehicle and will tell the technician the precise spot to weld.
"Our goal with every car is to return it to pre-collision specifications"
Having served the Middleton community for over 50 years with technicians featuring decades of experience. But they're not above learning new techniques and strategies to make the car rebuilding experience more efficient and affordable. When the technicians wanted to learn advanced automotive painting techniques, they sought out Hendricks Motorsports, a North Carolina-based team that's known for its abilities in building professional NASCAR vehicles. From Hendricks, the Ball Body Shop team learned tricks of the trade that have enabled cars to speed through the painting process in as little as 45 minutes. That includes painting the car, applying a clearcoat and baking it so it sets.
NASCAR cars are not just the premiere cars because of what's under the hood, it's also the painting process that the Hendricks team performed. Ball Body Shop is happy to say they now match that quality and speed.

Within it's large footprint, there are four paint booths, four prep stations, two frame racks, one alignment rack and 16 individual body repair bays. With the technology Ball Body Shop possesses, cars aren't out of commission for long. But even when they are being worked on, people don't need to rent a car or borrow one from a friend—Ball Body Shop is owned by Smart Motors and therefore has access to an entire fleet of new Toyota loaner vehicles

If your repairs take three days, you'll get that loaner for three days. If it takes three weeks, that loaner is yours for three weeks, all at no additional cost. The loaner vehicles (cars, hybrid cars, vans, trucks) are your's to use until repairs are completed even if you don't have rental coverage.
"We just want to get people back on the road quickly."
These amenities and the state-of-the-art facility might make it sound exclusive, but Ball Body Shop works with over 17 major insurance providers to ensure it can quickly get that family car back on the road. Ball Body Shop repairs over 2500 vehicles per year, with the utmost levels of quality.
About Ball Body Shop
The official body shop of Smart Motors, opened its doors in 1950 and has provided body services to all makes and models of cars ever since. Ball Body Shop has been voted "Best Body Shop" by readers of Madison Magazine over the years.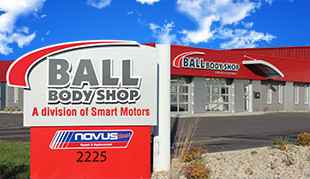 2225 Eagle Drive Middleton, WI
Ball Body Shop Hours
608-831-5944
| | |
| --- | --- |
| Monday | 7:00 am - 6:00 pm |
| Tuesday | 7:00 am - 6:00 pm |
| Wednesday | 7:00 am - 6:00 pm |
| Thursday | 7:00 am - 6:00 pm |
| Friday | 7:00 am - 6:00 pm |
| Saturday | Closed |
| Sunday | Closed |